8th of November - 15th of November
BECOME A BETTER VIOLINIST
Attend A
8-Day Violin Camp Worth $247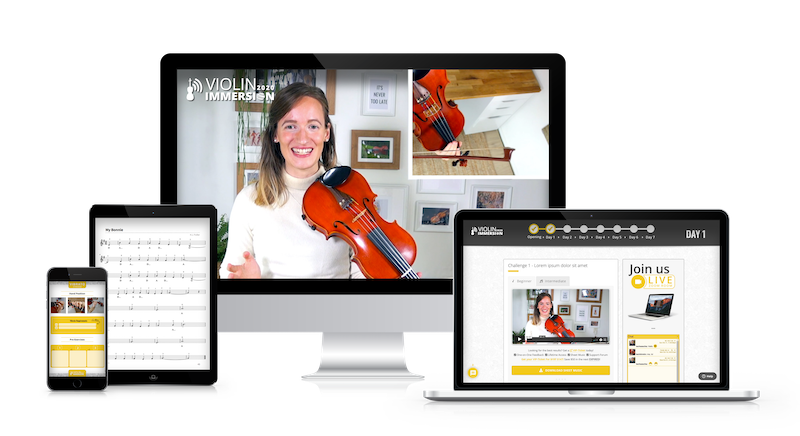 Violin Immersion is a unique online violin camp for adult beginners, in which you'll get daily online classes, LIVE workshops and sheet music to improve your violin technique in only 8 days!
Learn New Techniques on the violin with easy step-by-step lessons.
Each lesson has multiple camera angles, sheet music and everything else you need to learn.
See just how much you can improve your playing in a week of fun and intensive practice.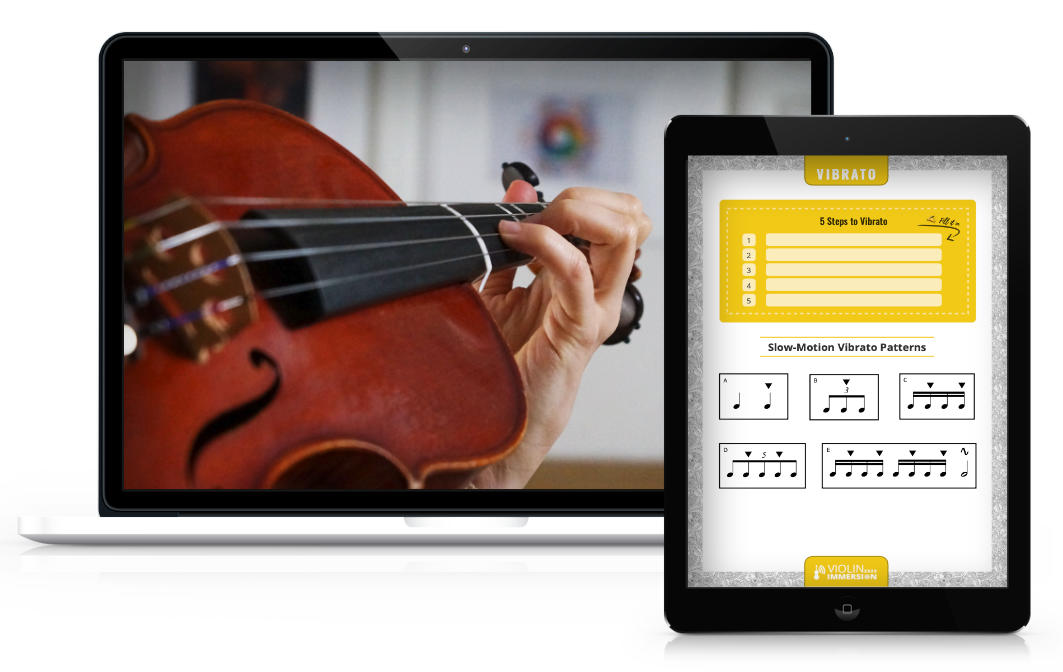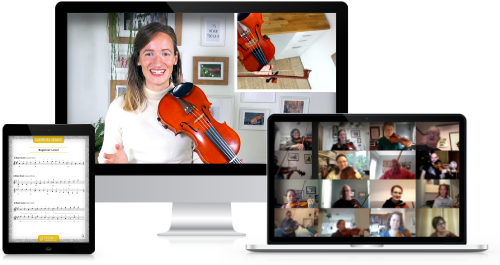 Join interactive live sessions every day!
In our workshops you get everything you need to practice more effectively. Learn new skills such as vibrato or scale practice and ask all your questions directly to our teachers.
Meet Other Adult Beginners
Violin Immersion is a violin camp for people just like you.
They decided to do what they love. Learn to play the violin as an adult.
Here you can meet like minded people, share your experiences, make some memories and make some new friends.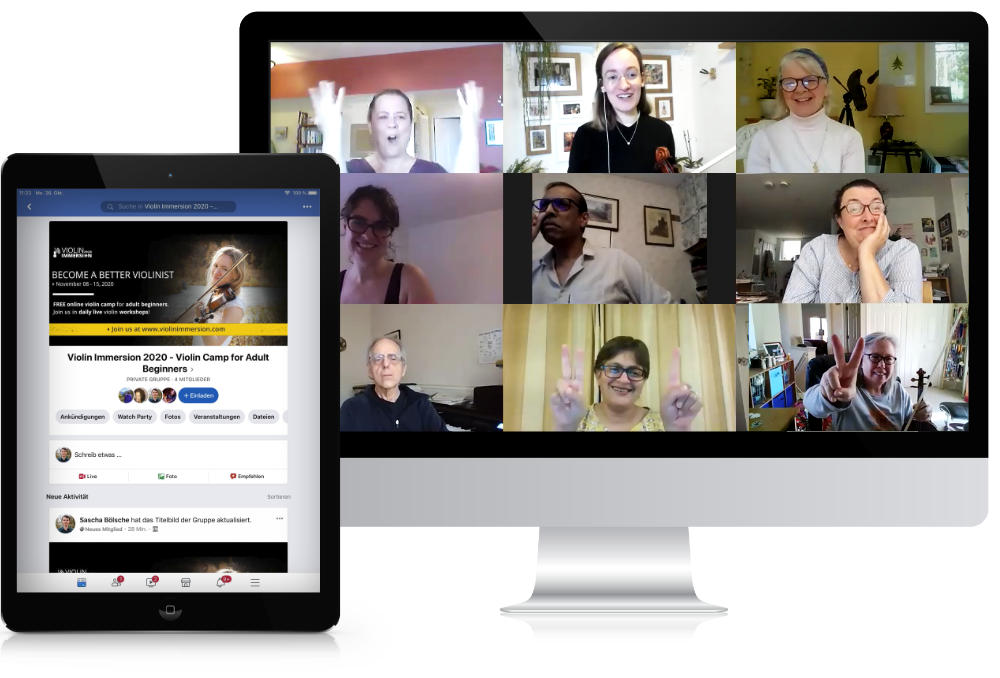 LEARN FROM THE
GREATEST
VIOLIN TEACHERS!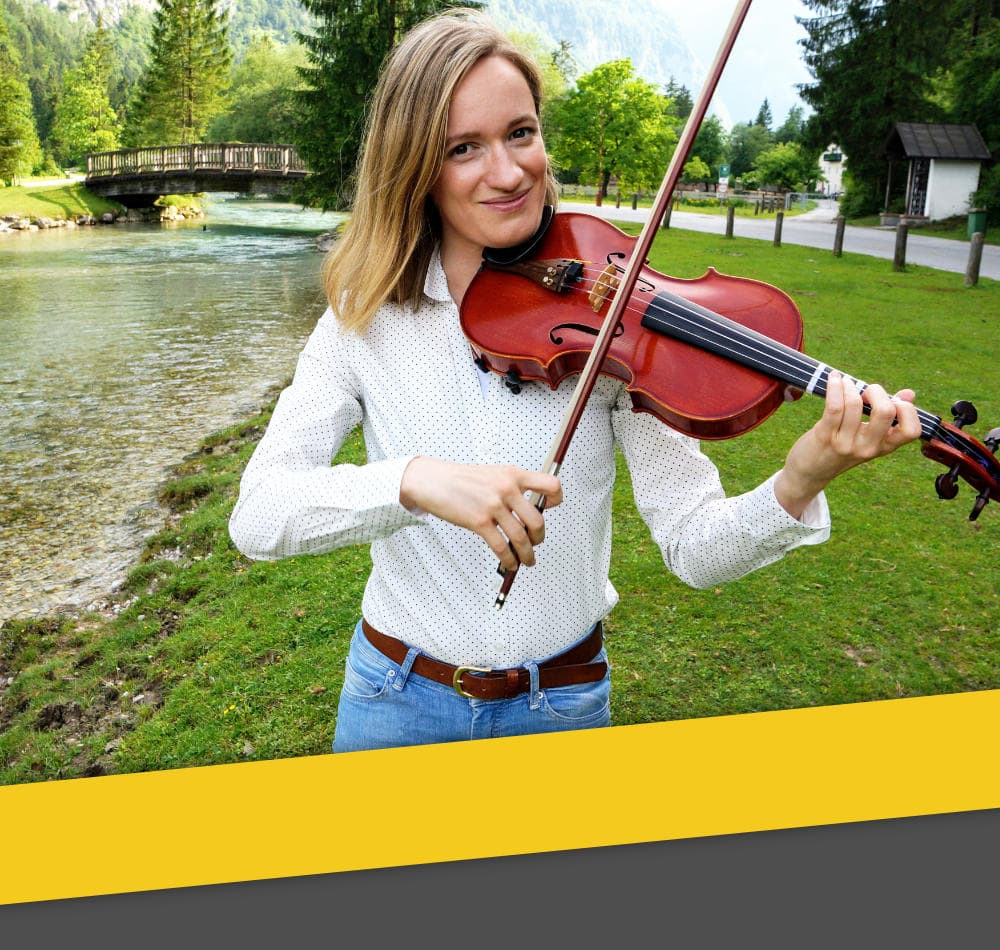 Julia Termeer
Violin Teacher & Founder of Violinspiration
Julia is a violin teacher and founder of Julia's Violin Academy. Her books, teaching methods and videos are enjoyed by more than 75.000 violinists worldwide.
Julia knows that it is NEVER too late to become a violin player! Anyone can learn to play – as long as you practice correctly.
With her easy, step-by-step method she teaches adults from across the globe how to master this wonderful instrument.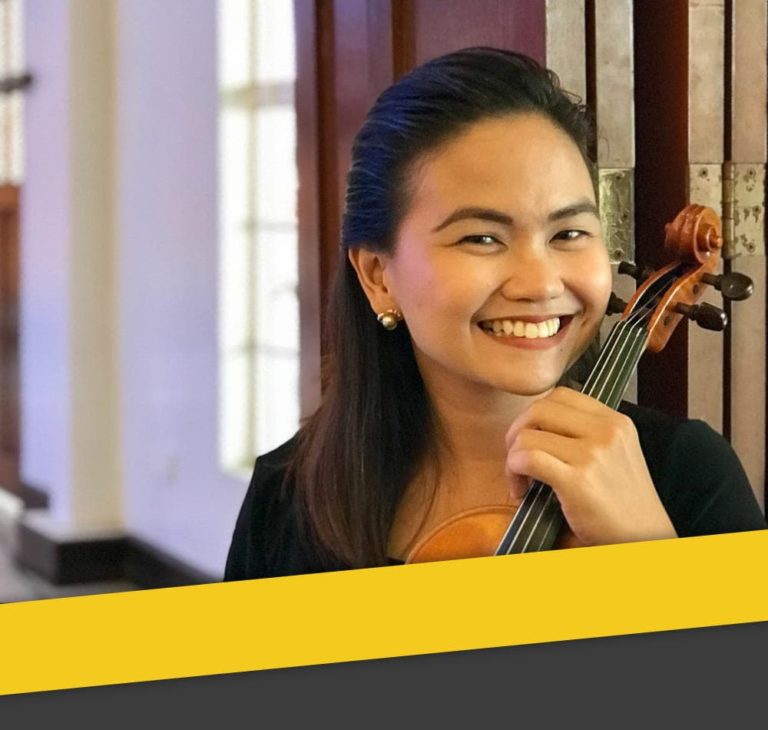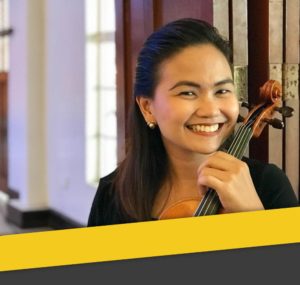 Maria Victoria Abadam
CLASSICAL VIOLINIST
Victoria has obtained a B.Sc. of violin performance and M.Sc. degree in violin pedagogy.
As an assistant concertmaster of the Manila Philharmonic Orchestra and solo violinist in many musicals and film productions, we are proud to call her a teacher at Violin Immersion!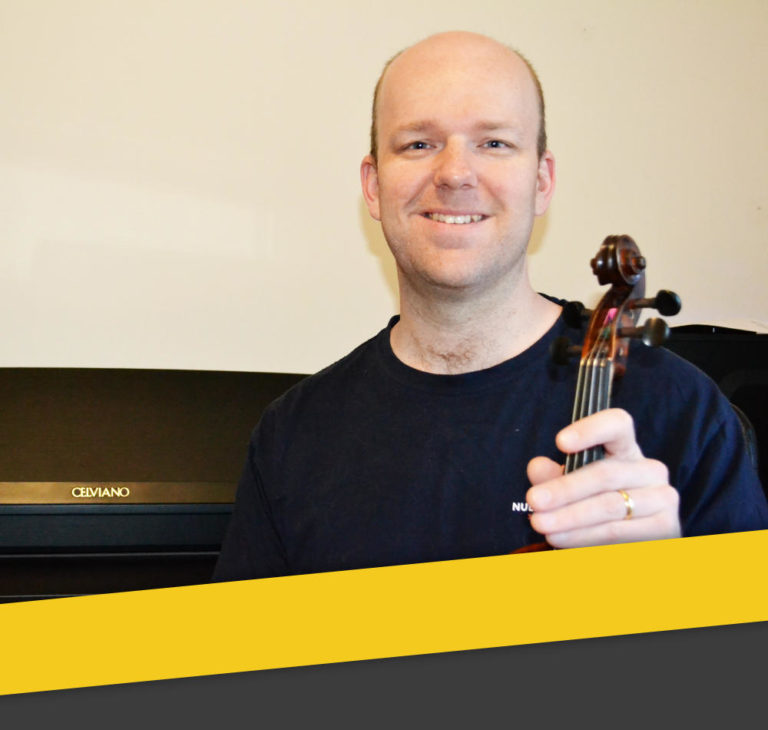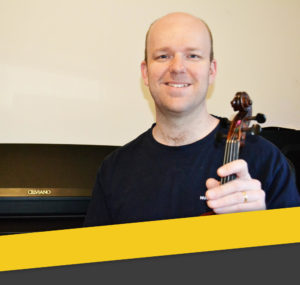 Michael Wolter
SPECIAL GUEST TEACHER
Michael has been playing music for over 20 years and has been fortunate to play Trombone with many ensembles. He recently joined Julia's Violin Academy to learn Violin as a new challenge and is eager to pass on his music knowledge to help people decipher the often challenging topic of Music Theory.
You know you should be practicing
to become a great violin player
Every. Day.
So let's do this together.
according to your local time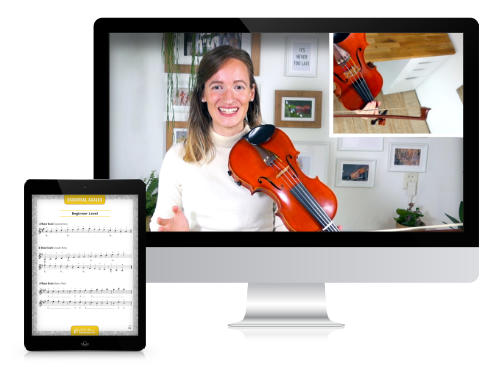 We'll kick off our online violin camp with our opening circle! Here you will meet your fellow violin "nerds", we'll get over the schedule of the week, but most importantly: we'll have our opening jamsession. ✨
In the opening jamsession we will play songs from the Violin Immersion Jambook together. Make sure to bring your violin so you can play along! 🎻
according to your local time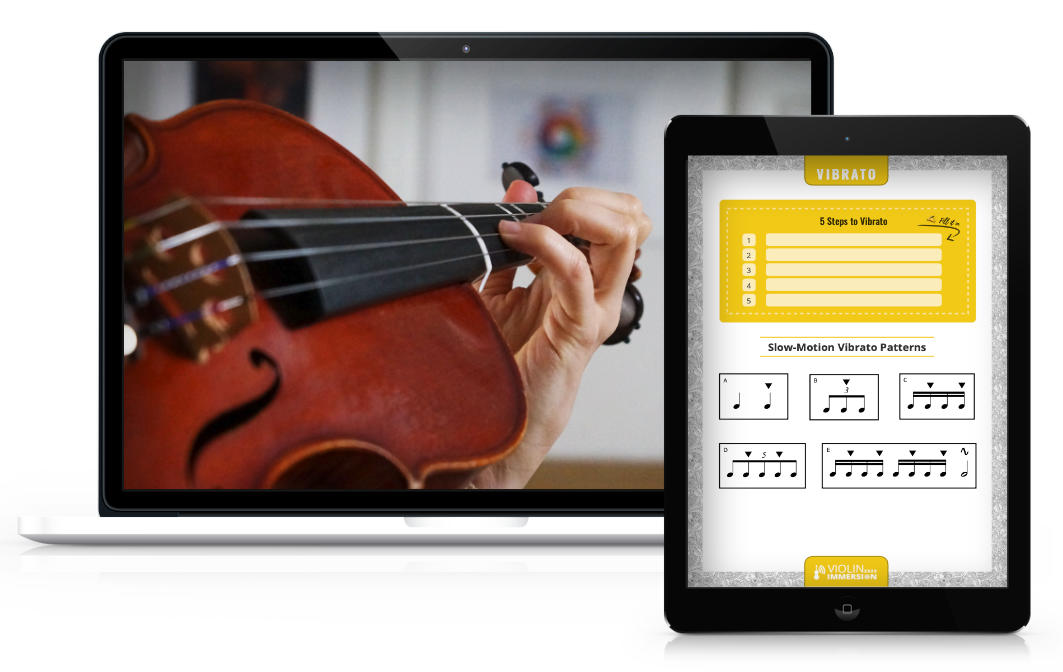 The 5 Steps to a Beautiful Vibrato
Would you like to play with a beautiful vibrato tone in all your pieces? In that case, this workshop is for you!
In this workshop you will learn the 5 steps to learn to play beautiful vibrato on the violin. Plus, we will directly practice the exercises together on Zoom.
according to your local time
Beginner challenge
Legato bowing
Intermediate challenge
Trills
Tuesday

, 10th of November

according to your local time
Beginner challenge
Double stops
Intermediate challenge
Playing 5th position
Wednesday

, 11th of November

according to your local time
Beginner challenge
D Major scale played in thirds
Intermediate challenge
Advanced arpeggios
Thursday

, 12th of November

according to your local time
Beginner challenge
Ti-tika rhythm
Intermediate challenge
Shifting to harmonics
according to your local time
Beginner challenge
Accenting long notes
Intermediate challenge
Up-bow staccato
Saturday, 14th of November



according to your local time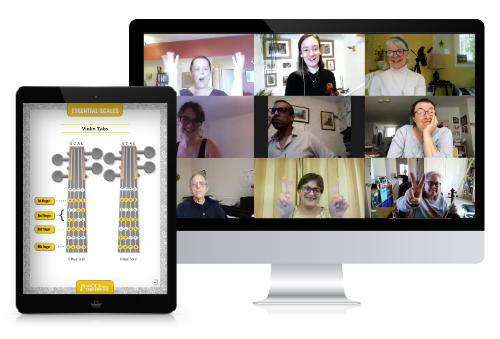 Essential Scales for Beginning Violinists
If there would be one "shortcut" to learning the violin more quickly, it would be called "scales"!
They can sound a little "boring", but if you practice your scales right you will quickly learn new techniques, improve your intonation and will activate muscle memory!
After a few weeks of practice, you will never want to go back to life without scales! 🎻
In this workshop I will show you exactly which scales to practice in each stage of learning the violin. We will directly practice the scales together on Zoom. After the workshop you can expect to have a solid scales routine ready for the coming months. 😍
according to your local time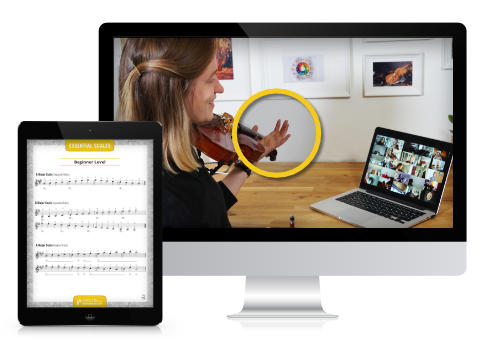 Finger Speed & Strength Masterclass
Ever wondered why your fingers just won't move fast enough?
This workshop is for you! Especially adult beginners are often afraid that their fingers can just "not move as fast anymore". But nothing is further from the truth! If you approach your fast passages smart and with determination, anyone can learn how to play faster.
In this workshop we will go over the best finger exercises for speed & strength. Plus, you will learn 3 "secrets" to playing fast on the violin.
according to your local time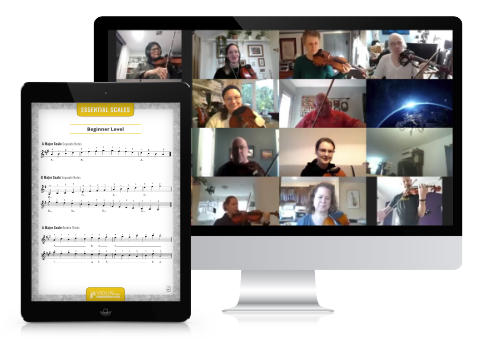 How to Practice Efficiently with The Pomodoro Method
In the end, becoming a great violin player all comes down to consistent practice. But how can we practice consistently? And even more important: how can we make our practice sessions more fun and effective?
In this Zoom session we will hold a Pomodoro practice session together. Make sure to bring the current pieces, scales and etudes you are working on to join us for an hour of focused practice.
according to your local time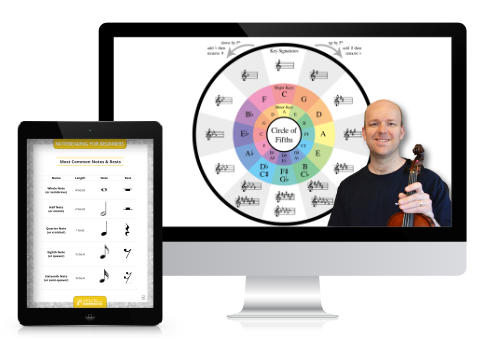 Note Reading 101 – How to Read Violin Sheet Music for Beginners
Is reading notes a slow process? In our "Note Reading 101" workshop you will learn the basics of note reading on the violin.
For this class, you don't need to have any prior experience with reading notes. Step-by-step we will go over the most common signs, notes and rests that you find in violin sheet music.
By the end of the class you can expect to understand where to find the notes on the fingerboard. Also, you will be able to sight-read your first easy violin rhythms and melodies!
according to your local time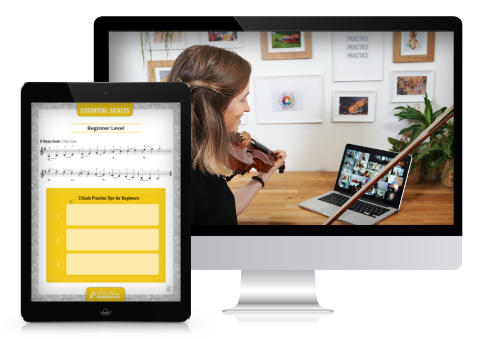 FEEDBACK SESSION
(WITH JULIA + VICTORIA)
In our feedback session you will have the opportunity to play your current piece to Julia or Victoria, to get direct feedback on your playing in front of an online audience of other members.
You can attend no matter if you want to play for us or only want to listen to others. If want to join as a listener, you can expect to get insights based on the playing of others, get new "a-ha" moments and get out of the class with new motivation to practice.
If you want to join as a player, we advise to prepare as good as you can. Make sure to bring the sheet music of the piece you prepared in PDF to our class, in case it is not a Violin Immersion song!
according to your local time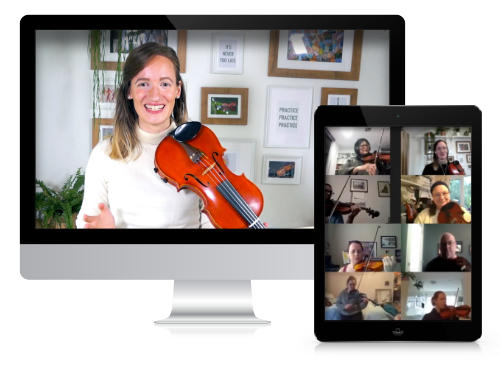 Join our closing jam for a cozy ending of our camp.
In our closing jamsession we will meet on Zoom with all camp participants and play violin songs from our Violin Immersion Jambook. Julia will accompany all students on the piano. 😊
If you feel exceptionally brave, you'll also have a chance to play your own songs live for the group.
About Julia And Her Online Violin Lessons
Rated ★★★★★ 5 out of 5 stars based on 69 customer reviews.
Great support, easy to follow

Very friendly and knowledgeable. Amazing support from the community.

A great place to make your dream come true on playing the violin! Julia is very inspirational and her videos got me inspired to pickup my abandon violin and start playing it again!! I'm in my 40's and hoping to become professional before I leave earth!
Hover with your over a review to the slider.